• Luxury Glass Decorative Objects • luxury glassware India

Image courtesy: Wikimedia The image of a happy yellow marigold appears in the minds of most people when asked to think of a flower that defines India. The Gendā(गेंदा)flower, as it is known in many Indian languages, is synonymous with cheer and celebration in India. Officially, lotus is the national flower but marigold holds a place in Indian pop-culture today that's no less than lotus. Festivities, rituals and ceremonies are incomplete without the presence of these sunny dollops of fragrant petals. Could you have imagined that something so integral to the land's aesthetic identity is not native to it? It's...
---
• decoration glass • glass decoration items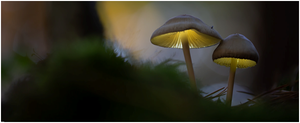 Picture credit: Dirk Ercken Images There is something surreal about shrooms. Perhaps because that's a world we don't quite know. How a little, perfectly umbrella-shaped shroom pops up when the whole world is sleeping is quite the magic. In Bengali, they call it byang-er-chhata - an umbrella for the frog. Isn't it a name that transports one into the magical, rainbow-y realm of fairytales. And if you were to know them, that's a whole world in itself. From lacy, large ones to tiny, almost difficult to see ones- it is incredible the kind of mushrooms that dot the earth and...
---
• Home decor • Luxury Glass Decorative Objects
To be inspired by nature is both an easy and a difficult thing. Easy because its easy to love. There is no reason why one wouldn't love a gorgeous bunch of roses or freshly bloomed, bright green leaf catching the sun through its veins. Difficult because it is ridiculously- and I would use the word ridiculously- difficult to capture the nuances of nature in glass. The slight gradations of colour, the varying translucency, the organic forms with slight differences, the patterns and textures, the quality of lightness, the iridescence of pearl, the mellow, soft reflections of sun on water, the...
---
Have you noticed the latest trend taking over the interior design world? It's all about the "transparent touches". Yep, you heard me right! All I'm seeing these days (or should I say "seeing through"?) is the use of glass products in personal spaces. From glass furniture to lucite accessories, it's like we've all suddenly become obsessed with the idea of seeing through everything! It's like we're all saying, "move over, solid surfaces - it's time to let some light in!"But seriously, adding transparent touches to your space can have a huge impact.Not only do they make a room feel more...
---
• Home decor • Luxury Glass Decorative Objects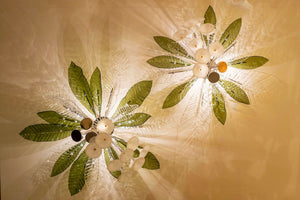 I was lying there. Beneath one of GlassForest's beautiful Plumeria chandelier as it casted the most ethereal shadows. The deep greens of the meticulously crafted glass leaves and the signature, trumpet like flowers in milky white with their gorgeous brass stems; filling me with a sense wonder. It felt akin to sitting under a plumeria tree, on a full moon night, as the linen-y moonlight poured in from its canopy, in its truest sense and it all felt very wholesome. Like a good meal that has not yet been touched with the pretentiousness of the world. Like growing your own...