News — Luxury Glass Decorative Objects
• Luxury Glass Decorative Objects • luxury glassware India

Image courtesy: Wikimedia The image of a happy yellow marigold appears in the minds of most people when asked to think of a flower that defines India. The Gendā(गेंदा)flower, as it is known in many Indian languages, is synonymous with cheer and celebration in India. Officially, lotus is the national flower but marigold holds a place in Indian pop-culture today that's no less than lotus. Festivities, rituals and ceremonies are incomplete without the presence of these sunny dollops of fragrant petals. Could you have imagined that something so integral to the land's aesthetic identity is not native to it? It's...
---
• Home decor • Luxury Glass Decorative Objects
To be inspired by nature is both an easy and a difficult thing. Easy because its easy to love. There is no reason why one wouldn't love a gorgeous bunch of roses or freshly bloomed, bright green leaf catching the sun through its veins. Difficult because it is ridiculously- and I would use the word ridiculously- difficult to capture the nuances of nature in glass. The slight gradations of colour, the varying translucency, the organic forms with slight differences, the patterns and textures, the quality of lightness, the iridescence of pearl, the mellow, soft reflections of sun on water, the...
---
• Home decor • Luxury Glass Decorative Objects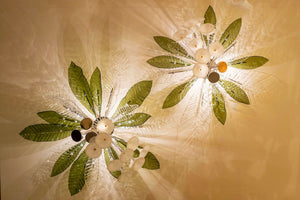 I was lying there. Beneath one of GlassForest's beautiful Plumeria chandelier as it casted the most ethereal shadows. The deep greens of the meticulously crafted glass leaves and the signature, trumpet like flowers in milky white with their gorgeous brass stems; filling me with a sense wonder. It felt akin to sitting under a plumeria tree, on a full moon night, as the linen-y moonlight poured in from its canopy, in its truest sense and it all felt very wholesome. Like a good meal that has not yet been touched with the pretentiousness of the world. Like growing your own...
---
• Festive season • Luxury Glass Decorative Objects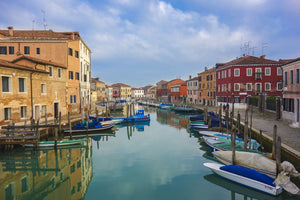 Or should we say, the centuries old love-affair that put Venice on the map. And we say a love affair because Murano glass, truly, is a brilliant example of a love affair between a material and its craftsman; because nothing else could give birth to something this beautiful, if not love. Perhaps it is this love affair that burns an artist's heart with raging passion for the art he pursues. This love affair becomes the adrenaline that makes humans superhuman. It is this love affair that makes craftsmen hunch over a tiny piece of glass, perfecting details that probably no...
---
• Glassware • Home decor • Luxury Glass Decorative Objects
I will, however, clarify one thing at the very onset. I don't follow trends. The clickbait articles don't make me click, I will not hear a word against brass fixtures, and I don't think anyone, in particular, buys anything because it's trendy. It's too frivolous to give in to something that may disappear in half a year when the truth is, you will have to live with "that trendy fixture" for a very long time. But this! At the Fall 2022 High Point Market, the world's largest home furnishings industry trade show, one particular trend shone through. A trend that...