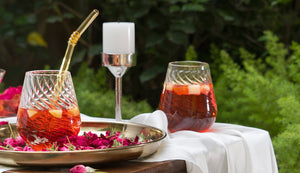 It can be as simple as adding some lemon or lime slices, cucumber slices, or mint leaves to your water. If you're looking for something a little more flavorful, try infusing your water with fruits like strawberries, blueberries, or oranges. You can also add herbs like basil or rosemary. For a refreshing twist, add sparkling water to your fruit-infused waters. If you're not a fan of plain water, try sprucing it up with some unsweetened fruit juice, such as cranberry juice or pomegranate juice. You can also add a splash of 100% vegetable juice, such as tomato juice or carrot...
---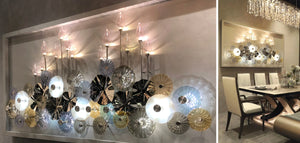 How to use light and shadow to uplift the ambiance of your room The dance of light and shadow makes for an interesting decor element to add to your interior design list. Right from when the sun rises to when the sun sets, the play of light and shadow is different at any given time of the day and that's what really makes it so special!  Lighting should create blissful shadows that animate the space. It should not make the place look uncomfortable, dull, and gloomy. Design concerning light and shadows makes any room dynamic. Imagine seeing the same space...
---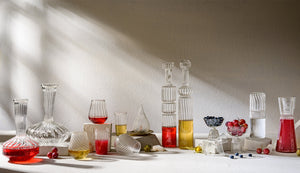 Decanting wine is a process that many wine enthusiasts are not familiar with, but it can make all the difference in the flavor and aroma of your drink. By following these simple steps, you can decant wine like a pro and enjoy its full potential. Whether you're looking for the perfect evening activity or want to impress your friends at your next party, learning how to decant wine is sure to elevate your drinking experience. And don't forget – proper storage is key to keeping your bottles in optimal condition. Make sure to check out our selection of beautiful decanters before you finish reading this post!
---
  As the days get longer and the sun shines brighter, it becomes impossible to beat the heat. The summer calls for staying indoors, eating refreshing summer salads, folding in the blinds and applying sun block. Summer also means mangoes, cucumbers, buttermilk and detox waters to make sure your body is hydrated enough. With the temperatures on the rise, you need to do more than just the bare minimum. Here are 3 fun recipes to make you beat the summer blues and not leave you parched and sweaty.  For better results, keep your summer elixirs stored in tumblers and carafes,...
---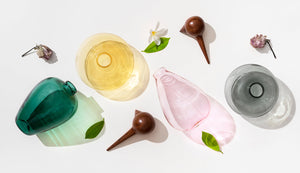 This World Environment day, make a resolution to switch to sustainable practices in your home. There are many small changes you can make that will have a big impact on the environment. Here are 5 easy swaps you can make to help reduce your carbon footprint and live more sustainably: